Billionaire entrepreneur Elon Musk has given Twitter, the popular social media platform, a rebrand to X. Then, sneakily, the Crypto Twitter noticed that Musk unveiled the Dogecoin logo in his Twitter bio location, following a logo switch from the classic blue bird to the X symbol.
These actions, subtle yet symbolic, pushed Dogecoin's price up by a significant 8%, with its trading volume skyrocketing by a remarkable 450.19% in a span of 24 hours, according to CoinGecko data.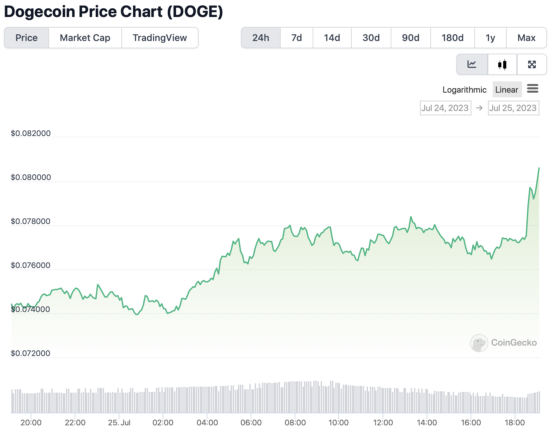 Musk acquired Twitter for $44 billion, merging it into the privately held X Corp. under X Holdings Corp. This was a step towards creating 'X,' an all-inclusive app, as Musk alluded to in October 2022.
He has since lost around $20 billion since buying Twitter, according to the Guiness Book of World Records.
However, X Corp., the rebranded Twitter, still has millions of active users, and integrating DOGE payments could broaden crypto usage on a global scale.
The relationship between DOGE and Musk is long lasting. Musk reportedly owns around $3 billion in DOGE in various wallets. Telsa, on the other hand, allegedly has over $200 in DOGE in 2022.
If the conjectures are correct and Dogecoin is indeed integrated into X's payment infrastructure, Musk's ongoing support could propel Twitter's profits while potentially raising the stakes in the Twitter and recouping the loses.
Musk's open admiration for Dogecoin has been a consistent theme, leading to significant price variations. His 2019 tweet, "Dogecoin might be my fav cryptocurrency. It's pretty cool," solidified this fondness.
While there are doubters — given crypto's flirtation with mainstream status amid the bull market that ended in 2021 — the potential remains.
X is finally arriving! 🔥

X will be an "everything app" i.e. super app for U.S. (like WeChat of China)

• Social: network, msgs, video, content
• Finance: banking, payments, data

"Overtime it would be HALF of global financial system" – Elon Muskpic.twitter.com/wWywAdYRZR

— Brandon Hoffman (@BrandonHoffman_) July 14, 2023

#Musks #Golden #Ticket #Twitter #Profitability #DOGE