The creditors of the bankrupt crypto firm, Voyager Digital, face a $5.1 million bill. The New York law firm McDermott Will & Emery is seeking compensation for legal services provided from March 1 to May 13, 2023, according to a filing on July 3.
The substantial invoice was charged to the "Official Committee of Unsecured Creditors," otherwise known as the creditors of Voyager Digital, with an hourly rate of $1,026.76, encompassing a wide range of legal tasks. The law firm was engaged in a variety of roles, including guiding the committee through bankruptcy proceedings, negotiating with debtors and other interested parties and managing the necessary paperwork: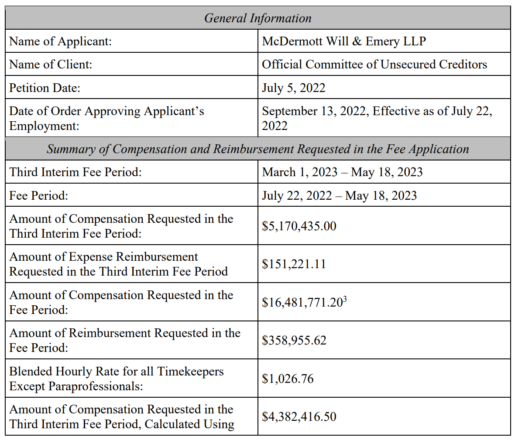 This marks McDermott Will & Emery's third and final invoice, rounding up the total claimed compensation to $16.48 million since July 5, 2022. Voyager has reportedly paid $8.97 million of this sum.
The legal cost fallout doesn't stop with McDermott Will & Emery. Kirkland & Ellis, another legal adviser, has also billed Voyager for $1.1 million for its April services. The filing that this is the "compensation in the amount of $1,128,312.40, which is equal to 80% of the total amount of reasonable compensation for actual, necessary legal services that K&E incurred in connection with such services during the Fee Period."
These charges stem from Voyager's bankruptcy announcement on July 5, 2022, amid the crypto lending turmoil that had the company declare liabilities between $1 to $10 billion.
#Bankrupt #Voyager #Digitals #Creditors #Racks #5.1M #Legal #Fees