Key Takeaways
Hackers found a way to mark the alleged 986 BTC wallets of Russian state intelligence agencies
The vigilante gained control of some of the private keys of these wallets and donated those funds to Ukrainian aid organizations
Three wallets of the 986 are confirmed to be linked to the Russian Foreign Military Intelligence Agency (GRU) and Foreign Intelligence Service (SVR)
Hackers revealed that 986 unique BTC wallets have allegedly been used by Russian state intelligence groups, amid the complicated relationship between crypto and the Russian government. 
A recently deleted Chainalysis report from April 26 revealed that by using the blockchain feature OP_RETURN, which allows senders to attach messages on transactions, Bitcoiners could trace the more "aggressive usage of BTC" by Russian State intelligence groups. Almost 1000 wallets were linked to Russia's Foreign Military Intelligence Agency (GRU), Federal Security Service (FSB), and Foreign Intelligence Service (SVR).
The OP_RETURN feature, according to the Bitcoin Wiki, allows a user to void the transaction and "has at times been used to convey additional information needed to send transactions," meaning that burned transactions can also broadcast and keep added messages on the blockchain forever. The so-called "OP_RETURN vigilante" burned over $300,000 in BTC to send messages via BTC transactions to these addresses between February 14, 2022 and March 14, 2022—putting the start of Russia's Ukraine invasion right in the middle of the informant's quest. 
The transactions included the four following texts in Russian: 
"GRU to SVR. Used for hacking!"

"GRU to GRU. Used for hacking!"

"GRU to FSB. Used for hacking!"

"Help Ukraine with money from the GRU Khakir"
What's more, the vigilante is suspected to have gained access to the private keys of these wallets marked with the above four messages because the vigilante returned in April 2022 to send money from these wallets to Ukrainian aid addresses.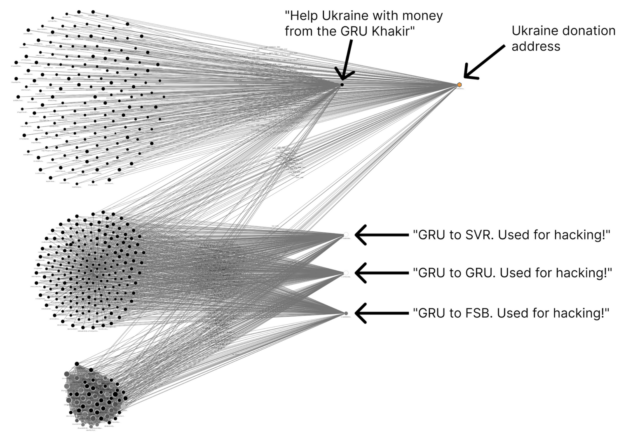 "The possibility that the OP_RETURN sender acquired private keys for Russian-controlled addresses also suggests that the Putin regime's crypto operations aren't secure," Chainalysis reported.
At least three of these wallet addresses are confirmed to be owned by Russian agencies, according to the report. Wallets …ytPm and …2uPf are owned by the SVR, cybersecurity firm HYAS confirmed in a now-archived post. Wallet …4hDH is owned by the GRU, which was confirmed by the wallet's connection to DCLeaks.com that had spread disinformation about U.S. politicians leading up to the 2016 U.S. presidential election.
While the Russian government agencies have yet to respond to the validity of the claims above, blockchain sleuths and hackers found a way to hypothesize how Russia has been using crypto to its advantage in its war against Ukraine.
"Those OP_RETURN message will be there forever — no government or corporation can take them down," the Chainalysis report reads, highlighting how government officials can have trouble grasping basic principles of blockchain technology. 
Crypto's relationship with Ukraine and Russia
Ukraine has fully embraced the use of crypto since the start of the war as an easy way for people to donate to Ukrainian war efforts. The Ukrainian government managed to collect $600,000 in donations in a matter of days and over $70 million within a few weeks of the war, with notable names such as Vitalk Buterin, the Canadian-Russian head of Ethereum, tweeting in support of Ukraine. 
Reminder: Ethereum is neutral, but I am not.

— vitalik.eth (@VitalikButerin) February 24, 2022
Over the border, the Russian government has been uncertain about crypto adoption. In July 2022, Russian President Vladimir Putin signed into law a crypto ban on the payment of goods and services. Meanwhile, the Russian Duma expressed interest in developing a digital ruble CBDC for 2023 to be used only for specified goods and services. 

#Hundreds #Bitcoin #Wallets #Controlled #Russian #Intelligence #Agencies #Exposed #Report